Season Cast
0
There are no cast records added to Specials.
Season Crew
0
There are no crew records added to Specials.
Episodes
1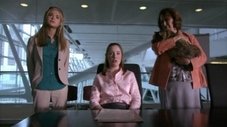 Set four years after the series ended, Der Waffle Haus has burned down and head reaper Rube has left due to retirement. The remaining reapers meet their new boss Cameron Kane, a "slick business man who couldn't care less about helping the newly dead." George reconnects with her sister Reggie when she has to reap the soul of Reggie's new (and secret) boyfriend, Hudson Hart. Daisy (now played by Sarah Wynter) is attracted to Cameron, who helps her get a role in After the Fall. Daisy, in a bid to gain the leading role, injures the lead actress and due to the stress turns to alcohol, even during the performances.
Read More
Expand