Episodes
5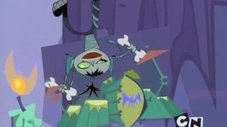 Talent Suckers From Slovakia: Ami and Yumi are tricked out of their talents by a trio of vampires.
Ole!: The duo are dragged into a bull fight against the ""El Diablo"", the most fearsome bull in Los Gatos Feos.
Mini-Puffs: Manager Kaz begins a new gig involving baby ""reincarnations"" of Ami and Yumi known as the ""Mini-Puffs"".
Read More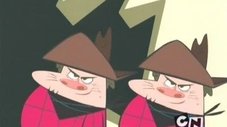 In The Cards: When Ami and Yumi are infatuated with a boy who is obsessed with a card game called ""Stu-Pi-Doh"", so they decide to play Stu-Pi-Doh to see who gets the boy.
Team Teen: The duo stops a villain, so the superhero group ""Team Teen"" grants them superpowers and they join their team, but they soon find out Team Teen follows teenage restrictions and is the lamest group of superheros... ever! But when they are in trouble, Ami and Yumi must go to their rescue!
Showdown!: Ami and Yumi accidently let 3 bandits out of jail and then they are blamed for it and are on wanted posters, so they decide ""showdown"" with the bandits!
Read More
Domo: When Kaz goes out and buys and a dog that looks just like him things start going crazy! When big time company owners come Kaz isn't there but Domo is! So can the girls get back before the company owners leave?
Yumi Goes Solo: Yumi gets fed up with Ami and Kaz giving her all the hard work, so she wishes that there was no such thing as Puffy AmiYumi. Her wish came true, but Ami and Kaz are now having a hard life, and Yumi realizes how miserable she is without them.
Cat Feud: Kaz, had it with Jang Keng and Tekirai, tries to frame them for various crimes. The name puns Cat Food.
Read More
Rock Lobsters: Ami and Yumi tried to save lobsters from a seafood restaurant.
Phantom of Rock: Kaz is tired of how Ami and Yumi are playing, so he seeks the help of phantom rocker, Johnny Ghost. Ami and Yumi then get trapped in his haunted mansion.
Fungus: Ami adopts a hunk of fungus that comes from their shower.
Read More
Puffy B.C.: In prehistoric times, Primitive Ami and Primitive Yumi create their own music, and Primitive Kaz tries to get the two to join together and form a band.
Dupli-Cats: Jeng Keng and Tekirai clone themselves to get rid of Domo after failing the first time.
Agent Y: Yumi is mistaken for a secret agent and must handle the real Agent Y's job.
Read More