Overview
Media
Fandom
Share
Overview
Contemporary artists describe their work and discuss why and how they do it. The programs are grouped according to themes of place, spirituality, identity and consumption.
A PBS series, educational resource, archive, and history of contemporary art, Art21: Art in the Twenty-First Century premiered in 2001 and is now broadcast in over 50 countries worldwide. Premiering a new season every two years, Art21 is the only series on United States television to focus exclusively on contemporary visual art and artists.
Creator

Creator
Series Cast
Herself - Host

4 Episodes
Current Season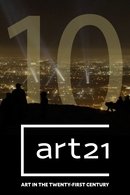 2020 | 3 Episodes
In season 10, twelve artists and one collective are presented across three episodes, charting artmaking in London, Beijing, and regions around the United States-Mexico border.
Content Score
Just a little bit more...