Episodes
2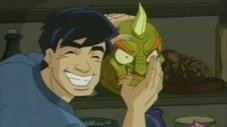 Jackie and the enforcers locate the seventh oni mask at a yard sale where it is eventually bought by a man who owns a site the sales antiques. It is then sold and won by some rich guy who ends up being Valmont. Jackie and the enforcers go to Valmont's apartment to get the mask and there is a big fight. During the fight, the mask is broken in half by Hak-Foo and one half goes to Valmont and the other is caught by jade. Valmont puts on his half and summons half of the shadowkahn.
Jade puts on the other half and summons the other half, which don't have heads). They end up in a building where the two halves of the maske get together and combine the shadowkahn into one so that they can defeat Jackie. While this is happening, Jade and Valmont are trying to get the half masks off themelves because Valmont wants money and the mask wants power. Eventually they get the mask removal potion and take the halves off each other.
Read More
Expand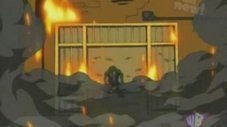 Drago breaks out of Section 13 on a mission to absorb the demon chi that is held in the original artifacts used to defeat the demons so many years ago. He finds the Enforcers at a petting zoo and transforms them into dragon-human hybrids. Drago locates the fan that holds the chi of the Wind Demon. Meanwhile, Jade gets into the nasty habit of burping. Jackie and Captain Black hunt Drago down to a Chinese-themed car wash, where the fan is located. Unbeknownst to everyone, Jade absorbs the demon chi. At school, her burps create powerful wind storms, and she begins to transform into a frog. Drago attacks Jade at school in order to absorb the chi, but Uncle and Tohru arrive to capture it instead. Drago fires the Enforcers and turns them back into their old human selves after they prove that they are weak and useless.
Read More
Expand