Overview
Media
Fandom
Share
Episodes
1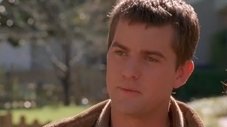 Pacey and Dawson finally start hanging out together again when Dawson tells him that he has feelings for his sister, Gretchen. Pacey doesn't like the idea, so when he and Gretchen go on a road trip to her ex boyfriend's house to pick up her truck, Pacey tries to get them back together. However, after being there for awhile, Pacey realizes that the guy he's trying to get back together with Gretchen is not who he thought he was.
Back in Capeside, Joey has her fair share of problems when she gets locked in a storage closet at the Yacht Club with none other than the loathsome sociopath Drue Valentine, which is later revealed that he set the thing up to avoid going to New York to visit his estranged father.
Meanwhile, Dawson observes the feelings growing between Mr. Brooks and Grams and fears that Grams will get hurt when she finds out that Mr. Brooks, like her last husband, is terminally ill.
Read More
Expand