Episodes
4
TONIGHT: California Congresswoman, Nancy Pelosi!
Read More
Speaker of the House Nancy Pelosi tells Jon about her new book, "Know Your Power: A Message to America's Daughters.
Read More
We don't have an overview translated in English. Help us expand our database by adding one.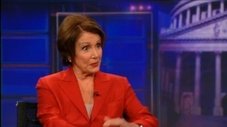 Herman Cain blames Democrats for his scandal; Republicans take a hit in Ohio, Arizona and Mississippi; and Nancy Pelosi shares her thoughts on Congress.
Read More