Overview
Media
Fandom
Share
Episodes
3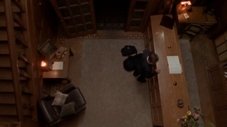 Investigating a small California inn, Cade becomes one of the subjects of an alien experiment that makes the guests' dreams come alive so that they can no longer tell what is real and what is merely a beguiling illusion.
Read More
Quatrain 34, Century 2. ""A vision of destruction appears near the throne / And the struggle to reign supreme begins / An approaching storm unchecked / To test the mettle of all men"".
The Paranoid Times Web site is set up to warn people of imminent danger we face from the alien race that has infiltrated this planet. People are starting to take notice.
One e-mail came from a Sheldon Lamott, who said he had pictures of a UFO floating above Columbia, Maryland, just 20 miles outside Washington, DC. I was skeptical the photos were legit – in my experience, spaceships weren't the Gua's style. But this seemed to relate to a quatrain Eddie found, so I checked it out.
Met Sheldon and his wife Pauline at their suburban home. I figured out what the tension was between Sheldon and his wife when Sheldon showed me his UFO pix in the basement darkroom. There were other photos – not of UFOs, but of Pauline's tryst with their neighbor, Boyd Hackett. This wasn't about the Gua, it was about a cheated husb
Read More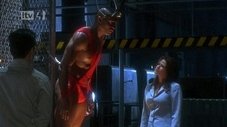 Joshua is put on trial, and must defend himself against charges that he is a human sympathizer and a traitor to the gua. - - -
No quatrain this week. Eddie and I are sifting through the database, checking some out, following up leads but we haven't discovered anything solid enough to head in.
But that doesn't mean I haven't been thinking about the fight.
Days like this I worry about the fight. If we don't keep making strides we could lose. Hate to say it but it's true. Try to push myself, harder, further, faster everyday – want to get some kind of momentum going.
Times like these, I think a lot about the enemy.
I think about Joshua.
He says he's not on our side – he's just looking out for the best interests of the Gua – a true patriot. Don't really care, as long as it benefits us.
Like the time I was on the run from the Feds in Montana and Joshua first helped me. I'd handed an alien a gun – she was posing as a forest ranger, was supposed to ""protect"" me from the FBI once they took me
Read More