Episodes
1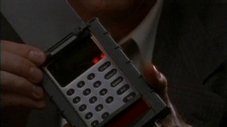 Quatrain 73, Century 6: ""A daughter of war meets the gallows when darkness' spirit takes flight. In the land of the Eye of the Stag, savior and devil come together as one.""
Even though I'm flying the Airstream solo these days I promised to keep up Foster's fight. So I'm doing the usual, scanning the quatrains and looking for matches in the real world. Thought the ""Eye of the Stag"" sounded like Ohio, the Buckeye State. So I checked for odd stories in the place that's ""round on the ends and hi in the middle.""
Came up with a girl named Lindsay Tilden, a cheerleader facing the death penalty for murdering her dad, Alistaire. Death penalty. Gallows. The clues were adding up.
Spicing up the pot was the fact that Lindsay's late Dad worked for Rocom Industries, a high tech weapons design firm and prime target for the Gua. Could Lindsay be the ""daughter of war"" the Big N had mentioned?
All signs pointed that way. So it was Eddie to the rescue. Solo.
Or so I thought.
Posing as Jack Reynolds from
Read More
Expand