Episodes
6
A drug test at the department reveals the Clemmy is with child. So, she looks for potential suiters. Garcia, being a gentleman, gives Clementine a proposition, that she refuses. Meanwhile, Deputy Johnson also babysits a sex offender around the neighborhood where he's moving in.
Read More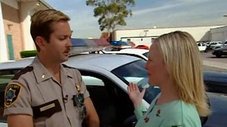 Dangle's ex-wife visits while the deputies are trying to get rid of a Ten Commandments monument.
Read More
Dangle visits his ex-wife and her new husband on their anniversary. Meanwhile, Trudy, Clementine, Raineesha, and Cheresa stake-out a lecherous Meth Dealer and his girlfriends.
Read More
Jim holds a murder-mystery dinner. The guest list includes his ex-wife, her ex-fiancé, and her new fiancé.
Read More
The conclusion. Jim's party is spoiled by a real death, so the deputies spring into action to solve the case of the murder-mystery dinner party.
Read More
The deputies feel a bit of nostalgic about their old cases when they transfer video evidence from VHS tapes to DVD.
Read More