Overview
Little Women, also known as Ai no Wakakusa Monogatari is a 1987 Japanese animated television series adaptation of Louisa May Alcott's Little Women, produced by Nippon Animation.
A sequel series, Little Women II: Jo's Boys, premiered in 1993.
Featured Crew
Creator
Series Cast
We don't have any cast added to this TV Show. You can help by adding some!
Last Season
1987 | 48 Episodes
The animated series is loosely derived from the book and introduces new material and characters. The series begins with the introduction of the March family happily living near Gettysburg (the nearby town of York in the English version), until one day during a picnic, Mr. March notices Confederate scouts at a riverbank. As an officer of the Union Army on leave with a broken arm, Mr. March hesitantly leaves his family to inform his superiors and to prepare for the upcoming battle. Meanwhile, his family endures the Confederate occupation and even helps an escaped slave named John from being forcibly recruited to fight for the Confederacy. Eventually, Union forces arrive and in the ensuing battle the March family home is destroyed and their investment (which had also been their savings) stolen. With no other options, the family leaves Gettysburg to Newcord, where they hope to be taken by an estranged aunt of father. Upon arriving in Newcord, they are coldly received by the old woman and even less so by David, an egotistical nephew who constantly asks for loans and antagonizes the family. Despite the reception, Aunt March allows the family to stay at home until they can get back on their feet. Determined to have a sense of normalcy and persevere their hardship, Meg finds work as a Governess while Jo alternates between being a companion to Aunt March and Author. During a sales pitch to sell a short story to a local newspaper, her work and her character are presumptuously criticized by Anthony, a local reporter. Upset and resolute, Jo throws herself into her writing ultimately earning the respect of Anthony and forms an amicable relationship. In time, the March family moves into a new home and the events that follow begin to reference the plot of the original novel: The 18th episode is based on Chapter 3 and follows the first part of the book. The storyline from Chapter 1 (Christmas 1863) begins in episode 21.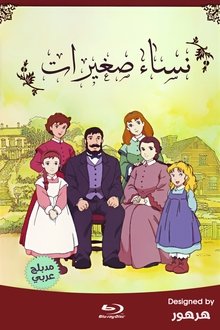 Facts
Original Name 愛の若草物語
Status Ended
Network
Certification
Meaning

Can be aired at any time.
Type Scripted
Original Language Japanese
Runtime 29m
Keywords
No keywords have been added.
Content Score
We're so close, yet so far.