Episodes
5
A vain and egotistical man decides on laser surgery to correct his eyesight, but after the first operation begins to see horrific apparitions which threaten his sanity. Meanwhile, Marian puzzles over Albert's enigmatic past until she unwittingly begins to share his nightly vision of the TET Offensive maneuver that cost his eyesight.
Read More
As an unsure Marian considers withdrawing from the Others, she moves into a new apartment that harbors a vague yet sinister force hiding in the wallpaper intent on scaring her enough to ignore her supernatural gift, but she is more concerned to learn that some of the Others appear to be stalking her. Meanwhile, Mark is tormented by the responsibility of his empathic abilities and can find relief only in the arms of Satori, but they are prevented from becoming physically intimate because proximity causes their environment to explode.
Read More
On a stormy night, the seers are terrorized by the Rabisu, an ""entrance demon"" who invades Elmer's house and preys on their minds with the repeated question: ""What do you want?""
Read More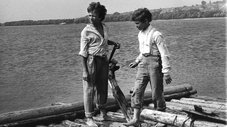 Elmer wrestles with his distant past as an American serviceman based in Britain during World War II whose special psychic gifts were employed even then to help doomed flyers ""get to the other side"" -- but there was one who refused to go, and his fate is now intertwined with that of a downed American pilot who is lost in the Iraqi desert. As time winds down before the pilot is captured, Elmer enlists the help of Marian to lock on to the pilot's position while the regretful old man confronts a spirit that might be lost forever -- and a very surprisingly other visitant.
Read More