Episodes
1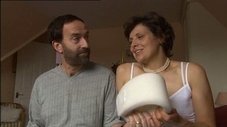 Meet Jill (""mid 20's, widow, with a lust for life and a flexible spine""), a suburban hairdresser who sets her sights on a new life following her husband is diagnosed with cancer. Jill convinces everyone her husband Terry is dead, however he's alive and well in the hospital. But Jill doesn't care about that, she's got better things to do like joining the ""Lasso the Moon"" Matchmaking Agency where she's set-up on a rather peculiar blind-date with Glen who describes his personality as ""Scottish"".
Next on the agenda is the 'Fun and Fellowship' group at the local village hall where she meets her new neighbour and the man of her dreams - Dr. Don Cole. Jill firmly sets her sights on the dishy GP, but there's just a slight problem - he's married to wheelchair-bound Cath. Undeterred by this small obstacle, Jill infiltrates their lives…and refuses leave.
Read More
Crew
1
Directed by: Tony Dow
Written by: No writer has been added.