Overview
Magical Girl Lyrical Nanoha is a Japanese anime television series directed by Akiyuki Shinbo, with screenplay written by Masaki Tsuzuki, and produced by Seven Arcs. It forms part of the Magical Girl Lyrical Nanoha series. The Japanese Association of Independent Television Stations broadcast thirteen episodes between October and December 2004. The series is a spin-off of the Triangle Heart series and its story follows a young girl named Nanoha Takamachi who decides to help a young mage named Yūno to recover a set of twenty-one artifacts named the "Jewel Seeds".
Masaki Tsuzuki adapted the series into a novel, which Megami Bunko published in August 2005. King Records has adapted several soundtracks and drama CDs from the series. A sequel to the anime series titled Magical Girl Lyrical Nanoha A's produced by Seven Arcs premiered in Japan on October 2005, broadcast on Chiba TV. A film adaptation of the anime series, also by Seven Arcs, was released in theaters on January 23, 2010, accompanied by a manga series which was serialized in Megami Magazine between November 2009 and March 2011.
Geneon Entertainment licensed the anime series for English-language dubbed release in North America at Anime Expo 2007. Due to Geneon switching distribution labels between September 2007 and July 2008, Funimation Entertainment distributed the series approximately one and a half years after the announcement of the licensing. Many production-credits for the English-language dubbed release were missing.
Featured Crew
Creator
Last Season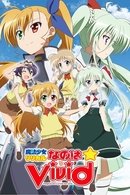 2015 | 12 Episodes
Set four years after StrikerS, Nanoha finally has time to get off her feet. The story picks up with the next generation, starring Vivio Takamichi and her device, Sacred Heart.
Recommendations
We don't have enough data to suggest any TV shows based on Magical Girl Lyrical Nanoha. You can help by rating TV shows you've seen.
Facts
Original Name 魔法少女リリカルなのは
Status Ended
Network
Certification -
Type Scripted
Original Language Japanese
Runtime 25m
Keywords
No keywords have been added.
Content Score
We're so close, yet so far.