Overview
"Where there is light, shadows lurk and fear reigns. But by the blade of Knights, Mankind was given hope."
The Makai fight a secret war against the demon forces known as Horrors, evil creatures that manifest themselves through darkness to devour Humanity. On the frontlines are the Makai Knights, given the task of watching over a district and eliminating any Horrors that manifest there.
GARO follows the tales of the Knights bearing the title of 'Golden Knight Garo', and their duty to vanquish the Horrors and protect Humanity from the darkness.
Featured Crew
Creator
Last Season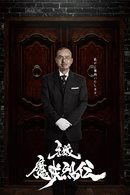 2016 | 12 Episodes
A collection of individual episodes featuring characters from the previous installments of the Garo franchise, each of them narrated by Gonza Kurahashi, the butler to the Saejima household.
Recommendations
We don't have enough data to suggest any TV shows based on GARO. You can help by rating TV shows you've seen.
Facts
Original Name 牙狼<GARO>
Status Returning Series
Network
Certification -
Type Scripted
Original Language Japanese
Runtime 25m
Content Score
We're so close, yet so far.