Episodes
4
Stardate: 51929.3 - When Voyager encounters a deadly radioactive nebula, Captain Janeway decides to save time by going through it and placing the crew in protective stasis with only Seven of Nine and the Doctor left to protect the ship. Seven soon starts experiencing hallucinations when an alien wants to trade vital supplies.
Read More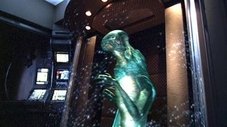 Voyager encounters another Federation starship, the Equinox, commanded by Captain Ransom, which was also abducted by the Caretaker. However, a terrible secret is exposed by the Doctor and Captain Ransom steals Voyager's technology along with Seven of Nine and the Doctor as hostages.
Read More
When Seven tries to perfect her social skills on the holodeck, her hobby quickly becomes an obsession, which leads her to neglect her duties, placing Voyager in great danger.
Read More