Episodes
1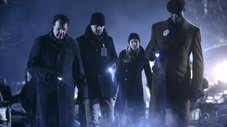 "The Transformation" is the thirteenth episode of the first season of the American science fiction drama television series Fringe. Its storyline centers on the circumstances surrounding a deceased scientist, who was doped with a "designer virus" and transformed into a dangerous monster, causing his plane to crash. Fringe agent Olivia Dunham and FBI consultants Peter and Walter Bishop connect the event to an impending arms deal. Olivia must explore her mind for remaining memories of her former partner and lover, John Scott, in order to prevent the sale of the virus.
The episode was co-written by Zack Whedon and supervising producer J. R. Orci, while producer Brad Anderson served as the director. The creation of the monster took the crew approximately eleven days – they took molds of guest actor Huff's head and back and created eight sets of dentures in order to create the special effect of transformation. To create the plane crash set, the crew spent over a week strategically placing around 15,000 pounds worth of plane parts.
It was first screened at PaleyFest in November 2008. On February 3, 2009, the episode was broadcast in the United States on Fox to an estimated 12.78 million viewers. The episode earned a 5/6.5 ratings share among adults aged 18 to 49, finishing in eighth place for the week. It received generally positive reviews. Commentators have noted allusions to the pilot and a fourth season episode, in addition to the television series Lost and H.G. Wells' novel The Island of Doctor Moreau.
Read More