Overview
Media
Fandom
Share
Episodes
4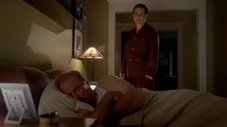 In an attempt to stabilize his shaky marriage, Captain Stottlemeyer redecorates his office with the New Age artifacts that his ""hippie wife,"" Karen, has given him, but he can't bring himself to watch the documentary that she spent forty-five thousand dollars to film. When Karen thinks that her documentary subject--the world's oldest man--was murdered, the captain rejects the suggestion as absurd but calls in Monk to pacify her. Unfortunately for the captain, Monk agrees with Karen, and Stottlemeyer finds himself on Monk's front porch with two packed suitcases. Monk, glad for a chance to repay the captain for helping him through his three-and-a-half year ""slump,"" invites him to stay as long as he needs to. Predictably, they both end up with frazzled nerves and very little sleep. Depressed over his own ""slump"" and his inability to solve a five-year-old case involving the death of a seventeen-year-old boy, the captain becomes even more despondent when Monk finds a clue that he missed in
Read More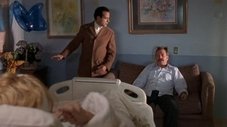 On her way to film a documentary (apparently about a union dispute), Captain Stottlemeyer's wife, Karen, is badly injured when her car is struck by a tow truck whose nonunion driver has been killed by a sniper. Distraught and furious, the captain blames a sleazy union official and his thug, a theory that seems to be confirmed when a second tow truck driver is murdered. But Lieutenant Disher, in charge of the crime scene investigation, discovers an odd detail that doesn't fit well with this scenario – both the assailant and the murdered truck driver were barefoot. Empathizing with the captain's anguish, Monk offers to do whatever he can to help and of course ends up investigating the case. A small dog that follows Sharona from the crime scene leads her to the home of a handsome man who seems attracted to her, but Monk is more interested in the next-door neighbor's off-kilter sundial. Meanwhile, the captain, fearing that his wife will die, becomes increasingly violent, taking out his anger...
Read More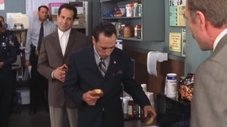 Karen Stottlemeyer has decided to film a ""cinema verite"" documentary about her husband's work, but her timing couldn't be worse. The police commissioner shouts at the captain (on camera) for focusing on a routine arson fire in a wig factory and relying on Monk to solve a more newsworthy case involving a female victim whose body was cut up with a chainsaw. Monk is in even worse trouble. After presenting some useful leads involving the chainsaw victim's age and nationality, he accidentally erases several years' worth of crucial computer files, and the enraged commissioner revokes Monk's private practice license despite Stottlemeyer's protests that doing so will destroy him. With Sharona forced to return to her old job as a nurse, the devastated Monk sits in the hospital hallway all day waiting for her until, at her exasperrated insistence, he finds a job with a magazine as a fact checker. Meanwhile, having identified the victim based on Monk's information, the captain and Disher zero i
Read More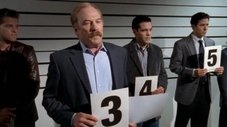 During the investigation of a murder in a junkyard, Captain Stottlemeyer punches a cop named Ryan Sharkey, who claims to be having an affair with the captain's wife, Karen. The only witness to the murder, a homeless man named Gerald or Jerry, has disappeared, but Stottlemeyer suspects businessman Michael Karpov, who is facing charges for money laundering and had a motive for killing the victim, who was scheduled to testify against him. Removed from the case and ordered to take anger management classes, Stottlemeyer asks Monk and Natalie to follow his wife, whom he suspects of lying about her whereabouts. They discover Karen having lunch with a man but are only able to photograph him from the back before being interrupted. Meanwhile, the homeless witness has been stunned and thrown from the third floor of a building but survives the fall, thanks to a corrugated refrigerator carton. Disher places Karpov in a line-up otherwise composed of police officers, including Sharkey, but Stottlemeyer, still enraged at Sharkey, disrupts the line-up before the procedure has been completed. An apple provides the clue that Monk needs to solve the murder case, and Karen reveals the identity of the mystery man she had lunch with. Unfortunately for the captain, it isn't Sharkey.
Read More