Overview
Media
Fandom
Share
Make it fashion.
Overview
Aspiring fashion designers compete for a chance to break into the industry. Each week, a designer is eliminated from the competition after exhibiting their work in front of a judges' panel.
Creator
Current Season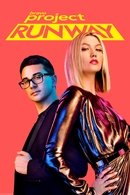 2019 | 14 Episodes
Season 18 sees 16 new designers ready to wow host Karlie Kloss, mentor Christian Siriano, and judges Nina Garcia, Brandon Maxwell, and Elaine Welteroth with their jaw-dropping fashions. This season brings back some elements of the competition that fans know and love, including the "Siriano Save," which gives Christian the opportunity to bring one eliminated designer back into the competition, and the chance to present a final collection at New York Fashion Week.
Content Score
We're so close, yet so far.