Overview
Media
Fandom
Share
Episodes
1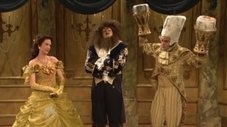 Live from New York, it's... Dwayne Johnson!
Sketches include "The Return of 'The Rock' Obama," "Fuquay Satin's Grand Hoochie Skank Rose," "Game Time with Randy and Greg," "Beauty and the Beast," "300," "What's Up With That?," "Trina at the Ad Agency," and "Daveheart."
Shakira performed "She Wolf" and "Did It Again."
Read More
Expand