Episodes
3
Sketches include ""Louis DePalma's Revenge,"" ""The Executive Test,"" ""The Whiners on an Airplane,"" ""Solomon and Pudge,"" ""Enzo,"" and ""Looks at Books."" Sparks performs ""Mickey Mouse."" Also, Brian Doyle-Murray interviews recently humbled actor-wrestler Andy Kaufman.
Read More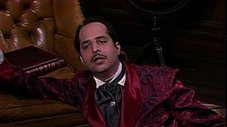 Live from New York, it's... Randy Quaid, Robert Downey Jr., and Anthony Michael Hall!
Sketches include "Vietnam Horror Story," "Nancy Reagan's Workout," "Lyndon LaRouche Theatre," "The 30-Second Count," a guest performance by Penn & Teller, "Big Time Professional Golf," "My Unconditional Love," "Master Thespian," and "The Further Adventures Of Biff And Salena."
Laurie Anderson performed "Baby Doll" and "Day The Devil."
Read More
Sketches include ""Ted Bundy Lives,"" ""Come Back to Carbon Paper,"" ""War of Da Woilds,"" ""Frankie's Proposal,"" and ""What Are You Looking At?""
Read More