Overview
Media
Fandom
Share
Episodes
4
On a world where everything west of the Mississippi is part of the Nation of Texas, corporate lawyers carry gunslinging ways of the Old West. After Quinn gets mixed up in a showdown, he gains the reputation for fastest draw in San Francisco and tries to prevent the hostile takeover of a family-owned computer company.
Read More
The Sliders land on a world where San Francisco is a national park dedicated to the preservation of dinosaurs, which is home to a deadly Allosaurus. A bad fall causes Arturo to injure himself and lose the timer. Quinn goes out alone to search for it, while the others hide out from the Allosaurus in a cave.
Read More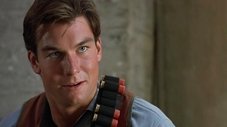 The Sliders become involuntarily apart of a human war game where the only winners are the ones that stay alive.
Read More
The Sliders arrive on a world where electric tornadoes have almost completely wiped out the population. They find a secluded village somehow protected from the tornadoes and a dictator that may prevent the team from ever sliding again.
Read More