Overview
When they were boys, Sam and Dean Winchester lost their mother to a mysterious and demonic supernatural force. Subsequently, their father raised them to be soldiers. He taught them about the paranormal evil that lives in the dark corners and on the back roads of America ... and he taught them how to kill it. Now, the Winchester brothers crisscross the country in their '67 Chevy Impala, battling every kind of supernatural threat they encounter along the way.
Featured Crew
Creator
Last Season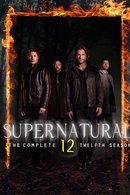 2016 | 23 Episodes
In the show's eleventh season, the Winchesters found themselves battling an apocalyptic force: the Darkness. Now, rallying help from their allies - both human and supernatural - Sam and Dean are about to go toe-to-toe with the most destructive enemy they've ever seen. The question is, will they win? And at what price?
Find out where to watch this on:
Facts
Status Returning Series
Network The WB Television Network, The CW
Certification
TV-14
Type Scripted
Original Language English
Runtime 45m
Content Score
Lookin' Good!