Episodes
3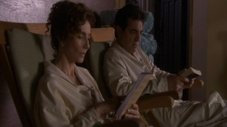 At Helen's insistance, she and Will take a getaway to a spa, but all does not go well when Will cannot forget about his job. And with the parents away, the kids are up to a little recreation of their own; Kevin and his boss, Rebecca, find it hard to ignore their mutual attraction; Joan, as she is trying to sort out her feelings for Adam, is instructed by God to throw a party while her parents are way; Luke helps Joan pull off a successful party.
Read More
After being prodded by Judith to go on a real date, Joan and Adam nervously prepare for a romantic night at a fancy French restaurant. Little do they know that Judith has subsequently made some misguided plans for herself for that evening, which later causes the guilt-ridden Joan to wonder if she could have prevented her friend's misfortune.
Read More
Joan and Grace fear the worst when, on the heels of failed attempts to reconnect with Joan, the emotionally fragile Adam goes missing during a hike...
Despite Grace's attempts to foster a more comfortable rapport between her friends, Joan is intent on hurting Adam with her rebuffs, which she regrets when it appears that his life may be in danger. Meanwhile, Helen is shocked when a priest tells her that the man who raped her 25 years ago would like her to visit his deathbed so he may apologize. Also, Luke is dismayed and intrigued when he learns that Friedman has been getting stoned.
Read More