Episodes
3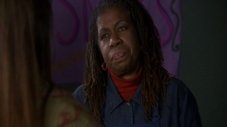 Joan's newest mission from God is to work with kids, so she volunteers to help babysit children of abused mothers; Joan becomes jealous when Adam falls for one of the volunteers; Kevin starts to get cocky again and sleeps with his girlfriend, Rebecca; previous events emotionally catch up with Will; and Luke makes a shocking admission to Kevin.
Read More
God tells Joan to take piano lessons; Joan helps her piano teacher deal with her past; Joan learns a painful secret Will and Helen have been keeping from the family; Iris becomes suspicious of Adam and Joan closeness.
Read More
After being prodded by Judith to go on a real date, Joan and Adam nervously prepare for a romantic night at a fancy French restaurant. Little do they know that Judith has subsequently made some misguided plans for herself for that evening, which later causes the guilt-ridden Joan to wonder if she could have prevented her friend's misfortune.
Read More