Episodes
6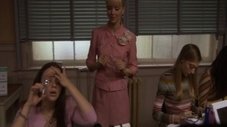 Joan takes a cosmetics class, per God's request, and Kevin doesn't react well to crossing paths with the last girlfriend he dated before his disabling accident...
Glynis' flattering makeover attracts a great deal of positive attention at school, which only adds to Joan's disappointment when Adam fails to notice her own new look. Meanwhile, Kevin, who remains bitter with the belief that he had been dumped by Beth because he had become a paraplegic, harshly rebuffs her efforts to make peace with him.
Read More
Gods tells Joan to help her mother collect clothes for the homeless; Kevin attempts stand-up comedy in order to impress Beth; Will wants to counter-sue the Bakers.
Read More
While helping Grace shop for a dress for the occasion, Joan is delighted to finally meet Grace's seemingly perfect mother, Sarah. However, when Sarah's drinking problem becomes evident, Joan begins to understand why Grace is so private – and why she's long been avoiding having her bat mitzvah. Meanwhile, Luke racks his brain to come up with a meaningful bat mitzvah gift for Grace. Additionally, Adam and Joan have different ways of coping with Judith's death. Will supports Lucy's less-than-legal means of trying to get one of Judith's friends to describe Judith's on-the-run killer, and Kevin's ex-girlfriend is deposed for the trial.
Read More
As Joan tries to work her way up to the high dive despite her acrophobia, Luke attempts to overcome his paralyzing fear of undertaking an activity at which he might fail. Meanwhile, Will continues his quest to find Judith's killer, and Kevin goes on a date with Beth. Additionally, while reflecting on Judith's death and Kevin's accident, Helen becomes overwhelmed with concern about her family being in harm's way.
Read More
Despite everyone's protests, Joan allows her snobby, Ivy League-educated guidance counselor to advise her against applying to college. However, after Joan relays her plans to Roger, an engaging college student on the campus she's visiting, he tells her that college is attainable and persuades her to hire him as a tutor. Meanwhile, Adam becomes jealous of Joan's rapport with Roger; Will sees a dark side of Lucy; Helen questions her commitment to Catholicism, and Beth finds it difficult to resume a relationship with the wheelchair-bound Kevin.
Read More