Episodes
5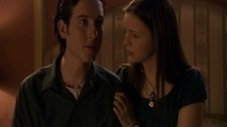 After God tells Joan to give Adam a gift, she finds something that leads her to wonder if God's suggesting she have sex with him...
While secretly searching through Adam's backpack for gift ideas, Joan is stunned to find a condom there. She soon wonders if sex is the ""gift"" God had in mind, and she nervously ponders whether or not she'd be ready for such a big step. Meanwhile, Kevin begins covering court proceedings for the paper and ends up causing a stir in one of Will's cases.
Read More
Judith, a wild friend of Joan's from summer camp, starts school at Arcadia High; Will investigates a drive-by shooting; Kevin confronts Andy about the on-going lawsuit.
Read More
After being prodded by Judith to go on a real date, Joan and Adam nervously prepare for a romantic night at a fancy French restaurant. Little do they know that Judith has subsequently made some misguided plans for herself for that evening, which later causes the guilt-ridden Joan to wonder if she could have prevented her friend's misfortune.
Read More
Incensed that Will and Helen have forbidden her to go to a concert with Adam and stay overnight with him in his father's camper, Joan goes anyway.
After Joan has a conversation with God about free will, she decides to use it as a rationale for lying to her mother in order to go on the trip as she's convinced that Helen simply wants her to remain a dependent little girl. Meanwhile, Luke is shocked when the nerdy, girl-obsessed Friedman rebuffs the advances of the surprisingly infatuated Stevie.
Read More
Joan and Grace fear the worst when, on the heels of failed attempts to reconnect with Joan, the emotionally fragile Adam goes missing during a hike...
Despite Grace's attempts to foster a more comfortable rapport between her friends, Joan is intent on hurting Adam with her rebuffs, which she regrets when it appears that his life may be in danger. Meanwhile, Helen is shocked when a priest tells her that the man who raped her 25 years ago would like her to visit his deathbed so he may apologize. Also, Luke is dismayed and intrigued when he learns that Friedman has been getting stoned.
Read More