Episodes
3
#13301 ""Small Time""
Max is practicing to drive the bumpercars at Funland. He and Emmy are going on Saturday. Emmy's not sure if he'll be tall enough to drive the bumpercars, which annoys Max, who's forever lamenting the problem of being too small to do stuff. In the meantime, the dragons are calling. Yet when Max and Emmy arrive at Dragon Land, no one's around. They figure the dragons are on their way and practice playing kickball. After kicking the ball into a patch of flowers, both accidentally touch shrinking violets, causing them to shrink down to the size of bugs. How can they get the dragons to find them and keep from getting stepped in the process? Time for a little help from every Dragon Tales viewer's favorite non-speaking guest star- the doodle fairy!
#13302 ""Roller Coaster Dragon""
Emmy is taking forever to tie her shoes, which is seriously bugging Max, who can't wait to go to Dragon Land. He decides to speed things up, by grabbing the dragon scale while Emmy finishes ty
Read More
#20301 ""Finders Keepers""
Max and Emmy are excited to get to Dragon Land as today is the big opening of the Dragon Land Aquarium. It's an exciting place, with food and rides and even a squirt fish, the only type of fish in Dragon Land that can walk on land. They arrive at Dragon Land and head for the aquarium, but not before getting Zak and Wheezie out of their knuckerhole, since they have the tickets to the aquarium. Or do they? When Wheezie gets there, she can't find the tickets. She asks the ticket-taker if they can get in anyway, since she really did have the tickets, she promises, but the ticket-taker is the same Poor Man's Rodney Dangerfield that was in the Season One episode ""Roller Coaster Dragon"" and he's not willing to let them in without tickets. Emmy suggests retracing Wheezie's steps to find where she put the tickets and the gang does so, cleaning Wheezie's room in the process.
#20302 ""Remember the Pillow Fort""
Max and Emmy have a box with various custome outfits and ar
Read More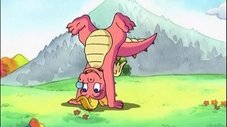 #21301 ""The Serpent's Trail""
Max and Emmy have a brand-new detective kit and they're eager to show it the dragons. Once in Dragon Land, they find a real mystery --- Cyrus the serpent is swiping dragongull eggs. They have to use not only their kit but their wits as well to solve this mystery.
#21302 ""Head Over Heels""
The gang is enlisted by Quetzal to help bring some soup to his ill brother Fernando. Unfortunately, they encounter a grumpy old troll and have to perform cartwheels to make him let this pass. This is a particular problem for Emmy, who is usually good at athletics, but has never done one before in her life.
Read More