Episodes
3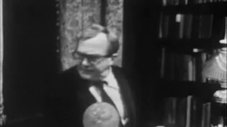 The owner of a London curiosity shop delivers a mysterious crystal egg to a university professor for the scientist's opinion on its worth and its properties. The 'egg' proves to be a window to Mars. When the professor loses the egg, he tries to convince people that he is not crazy.
Read More
A young sailor finds himself held captive on a submarine called the Nautilus and commanded by the mysterious Captain Nemo.
Read More
A sailor being held prisoner onboard a submarine by the mysterious Captain Nemo escapes from captivity with the assistance of the captain's daughter.
Read More