Overview
Student Bodies is a syndicated television comedy program that was produced in Montreal, Quebec, Canada from 1997 to the end of 1999. While a live-action series, animations are used throughout as thoughts and imaginations. The segments are usually dark and comical.
Though the show enjoyed much bigger success in Canada, the show was originally made for the American market under the distribution of 20th Television and aired on many Fox affiliated stations for one year. The show aired in Canada on Global and YTV. It has been called "an imitation of Saved by the Bell" by critics, and featured an ensemble cast of high school students at Thomas A. Edison High School.
Featured Crew
Creator
Last Season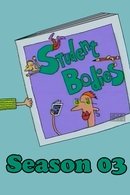 — | 14 Episodes
We don't have an overview translated in English. Help us expand our database by adding one.
No videos, backdrops or posters have been added to Student Bodies.
Recommendations
We don't have enough data to suggest any TV shows based on Student Bodies. You can help by rating TV shows you've seen.
Content Score
We're so close, yet so far.