Season Cast
0
There are no cast records added to Specials.
Season Crew
0
There are no crew records added to Specials.
Episodes
2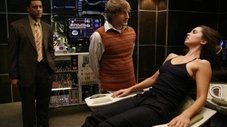 Agent Ballard's investigation into the Dollhouse gains momentum when he gets a photo of Echo. Meanwhile Echo and some of the other Actives start to show signs of self-awareness, making Adelle and the handlers nervous.
Read More
Expand
It's 2019 and the Dollhouse technology has been abused, causing the world to fall into a post-apocalyptic state.
Read More
Expand