Episodes
3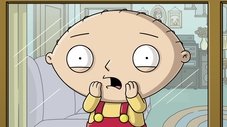 Peter gets a lasting supply of gasoline for the year, so the family decides to use it to take a road trip to the Grand Canyon. They pack up and hit the road, but it takes them a while to realize that they had forgotten to bring Stewie with them; when they do, they must make their way home posthaste.
Read More
Peter makes good on another power outage at home--by entertaining his family with a retelling of Star Wars Episode V: The Empire Strikes Back. Newcomers to the story include Mort as Lando Calrissian, Chris' boss Carl as Yoda, and the Giant Chicken as the nefarious Boba Fett.
Read More
Stewie and Brian go back in time to stop Bertram from killing Leonardo da Vinci in order to erase Stewie from the universe.
Read More