Episodes
5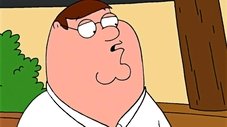 Chris loses interest in being a youth scout, as he would rather pursue drawing and art instead. The Scout Master then kicks Chris out of the scouts. Peter then takes the family to the Big Apple to try to get Chris reinstated back into the scouts. After Peter takes a wrong turn on the way, the family ends up at a Native American casino. Lois then gets obsessed with the slot machines while Peter goes on a vision quest to prove that he has Native American blood in him.
Read More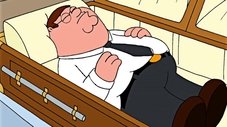 When Peter tries to get out of paying a doctors bill by faking his own death, he is visited by Death himself, who wants to take Peter away. After Death twists his ankle while chasing Peter, everyone on Earth becomes immortal while death is incapacitated.
Read More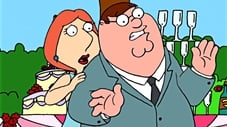 After the mob helps Peter with destroying his new beat up car, so he can get another new car, he must repay his debt to the mob by taking The Don's nephew, Big Fat Paulie, to the movies. Peter informs Paulie that they can't hang out anymore because of Lois, a misunderstanding that leads Paulie to believe that Peter wants Lois killed.
Read More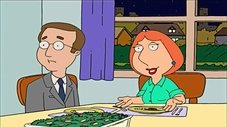 The day that Peter buys volcano insurance is the day that Lois becomes fed up with their constant money problems. When Peter wishes for a Jewish "money guy" to help them, Max Weinstein comes to the rescue. After meeting Max, Peter decides Chris could be successful if he converted to Judaism as soon as possible, but the plans for a "quickie" bar mitzvah in Las Vegas are quickly foiled by Lois.
Read More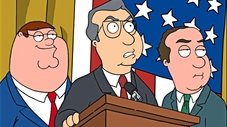 Peter's toy company gets bought out by the El Dorado Cigarettes company, and the toys are then used to market cigarettes to children. When Peter, on Lois's advice, confronts his new bosses about their evil use of toys, they promote Peter to president to shut him up. Lois, pleased with all the perks that come with Peter's new position, keeps her mouth shut too, while Brian quits smoking in protest. Peter's bosses send him to Washington to lobby against a bill that would put them out of business, because they figure politicians will be able to relate to a big dumb fat guy. When Lois finds Stewie smoking a cigarette, she goes down to Washington to stop what Peter's doing, and Peter ends up getting the El Dorado Cigarettes company fined $100,000,000. Brian helps himself to a cigarette as the family drives away.
Read More