Episodes
3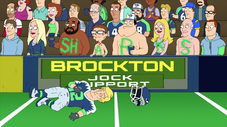 Steve becomes the town pariah after he convinces the star quarterback of the Bazooka Sharks arena football team to stop playing. Meanwhile, Roger forces Hayley to become a cab driver to pay him back for her gambling debts.
Read More
While having trouble communicating, Stan and Hayley team up to stop a terrorist plot to blow up the Bazooka Sharks arena. Meanwhile, Roger pretends to be an escort.
Read More
Stan is frustrated with traffic so he goes to the mayor and proposes that the town build a bullet train, but the mayor laughs off the idea; Roger pushes Stan into running for mayor; Stan wins the election but finds himself overwhelmed.
Read More