Episodes
2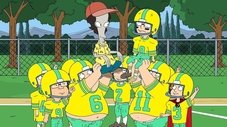 Steve joins a junior football team to make Stan proud. However, when a hyper-competitive Stan assumes the position of head coach, Steve gets kicked off the team for not being good enough. Out for revenge, Steve and Roger recruit a new team of misfits who threaten Stan's perfect season. Meanwhile, Francine and Hayley compete for a blue ribbon at the Langley County Fair.
Read More
Expand
Francine gets a job at Stan's office, which cramps Stan's style and his ability to flirt with co-workers.
When Francine retaliates with a little flirting of her own, war breaks out at work.
Read More
Expand