Episodes
3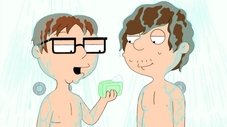 When Steve suffers indignities in school because of the back brace he must wear for his scoliosis, Stan confides in him that he wears a wig to cover his baldness. Meanwhile, Roger invites both Francine and Hayley to a posh spa even though he has only two passes, so he sneaks in Hayley in a suitcase, raising the suspicions of the house detective.
Read More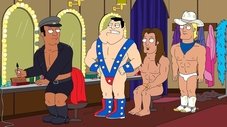 Upset that Hayley no longer wants his advice, Stan decides to prove that she is missing out on his sage counseling. After meeting a stripper on an important CIA mission, Stan takes it upon himself to improve her life and show Hayley that his advice works. But when he opens a new business, hoping to prove Hayley wrong, he finds himself dancing for cash to cover up his failures.
Read More
If there's one thing that Stan Smith loves, it's a good jury trial. He anxiously awaits his annual jury summons. But when Roger is the defendant in the trial where Stan is the foreman, he is finally in a position to make Roger accountable for his misdeeds. Meanwhile, Jeff and Hayley move in with the Smiths, and Francine tries to get Jeff to clean up his act.
Read More