Overview
Media
Fandom
Share
Episodes
7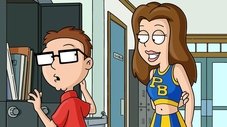 Stan Smith uses his CIA skills to help 13-year-old son Steve win class president and the heart of the hottest girl in class, Lisa Silver. But when being class president makes Steve mad with power, Stan must jump in to save the day. Meanwhile, Roger, the alien Stan saved from Area 51, helps 18-year-old Hayley with her school paper. In return, she hooks him up with boatloads of junk food to curb his sweet tooth. Unfortunately, some Chocodiles send him over the edge and a sugar crash prohibits him from finishing one of her papers, forcing Hayley to pick up the pieces. And Klaus, the goldfish with the brain of a German guy, pines after mother Francine. Unfortunately for Klaus, the closest he'll ever get to a date with her is the spin cycle with her sports bra.
Read More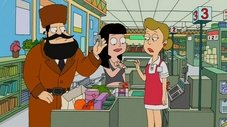 Hayley comes home from a Green Party rally with her hair dyed green, instigating a fight with Stan. While she's sleeping, Stan cuts her hair (for her own good, of course). After learning of what Stan did, a wigged Hayley defies her father yet again by moving into the van of her new boyfriend. When Stan cuts her off financially, she gets a job as a waitress in a strip club, which pushes Stan right off the edge. Meanwhile, Steve tries to pass Roger off as his disfigured sister in order to cop a feel with a female classmate.
Read More
When Stan enters an essay contest to have his personal hero, President Bush, come over for dinner, he is overcome with joy when the President arrives at his doorstep. However, not everyone in the Smith family shares Stan's excitement. Hayley tries to drill President Bush on the Iraq war, and Steve and Roger attempt to convince him that they've found Osama Bin Laden, but instead get him drunk. Stan tries to save the President from public humiliation, while Hayley revels in his fall from glory.
Read More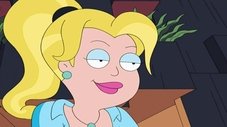 Stan and the family are characters in a James Bond style spoof. Stan must stop Tearjerker, played by Roger, a diabolical film producer who makes movies that can kill. Tearjerker's fiendish plot involves abducting celebrities from his spa and replacing them with celebrity robots that make horrible movies, all in an effort to make his masterpiece "Oscar's Gold" the best and saddest movie ever, causing millions of moviegoers to cry themselves to death.
Read More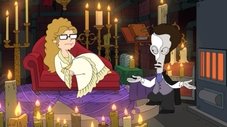 Roger suggests Stan hold a telethon to raise funds after the CIA's budget cut, but when Stan takes all the credit for the idea, Roger tries to sabotage it.
Read More
When Hayley goes to a My Morning Jacket concert against Stan's wishes, he crashes the show to bring her back home, but when he hears their music for the first time, it calls to him and he's smitten. Stan becomes obsessed with the band and decides to follow them on the road as a groupie.
Read More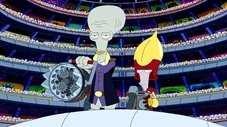 Jeff must prove his love for Hayley to Emperor Zing in order to find his way home from the spaceship that abducted him.
Read More