Episodes
5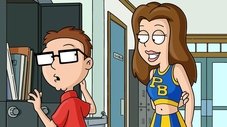 Stan Smith uses his CIA skills to help 13-year-old son Steve win class president and the heart of the hottest girl in class, Lisa Silver. But when being class president makes Steve mad with power, Stan must jump in to save the day. Meanwhile, Roger, the alien Stan saved from Area 51, helps 18-year-old Hayley with her school paper. In return, she hooks him up with boatloads of junk food to curb his sweet tooth. Unfortunately, some Chocodiles send him over the edge and a sugar crash prohibits him from finishing one of her papers, forcing Hayley to pick up the pieces. And Klaus, the goldfish with the brain of a German guy, pines after mother Francine. Unfortunately for Klaus, the closest he'll ever get to a date with her is the spin cycle with her sports bra.
Read More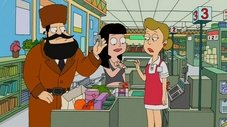 Hayley comes home from a Green Party rally with her hair dyed green, instigating a fight with Stan. While she's sleeping, Stan cuts her hair (for her own good, of course). After learning of what Stan did, a wigged Hayley defies her father yet again by moving into the van of her new boyfriend. When Stan cuts her off financially, she gets a job as a waitress in a strip club, which pushes Stan right off the edge. Meanwhile, Steve tries to pass Roger off as his disfigured sister in order to cop a feel with a female classmate.
Read More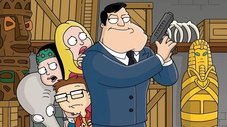 Stan invites his boss over for dinner, but the Smith family fears getting caught hiding Roger. After a close-call, Roger goes into a coma, making everyone thinking he's dead. After the family disposes of his body, Roger tries to get back home, but he ends up in another risky situation with the CIA.
Read More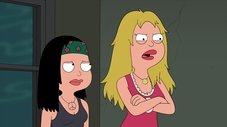 When a hurricane hits Langley Falls, the Smiths fight like mad to survive in their home. The crossover starts on The Cleveland Show S03E02 The Hurricane (I) and Family Guy S10E02 Seahorse Seashell Party (II).
Read More