Overview
Several hundred years ago, humans were nearly exterminated by Titans. Titans are typically several stories tall, seem to have no intelligence, devour human beings and, worst of all, seem to do it for the pleasure rather than as a food source. A small percentage of humanity survived by walling themselves in a city protected by extremely high walls, even taller than the biggest Titans. Flash forward to the present and the city has not seen a Titan in over 100 years. Teenage boy Eren and his foster sister Mikasa witness something horrific as the city walls are destroyed by a Colossal Titan that appears out of thin air. As the smaller Titans flood the city, the two kids watch in horror as their mother is eaten alive. Eren vows that he will murder every single Titan and take revenge for all of mankind.
Featured Crew
Last Season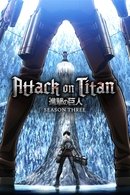 2018 | 22 Episodes
Eren and his companions in the 104th are assigned to the newly-formed Levi Squad, whose assignment is to keep Eren and Historia safe given Eren's newly-discovered power and Historia's knowledge and pedigree. Levi and Erwin have good reason to be concerned, because the priest of the Church that Hange had hidden away was found tortured to death, making it clear that the Military Police are involved with the cover-up. Things get more harrowing when the MPs make a move on Erwin and the Levi Squad narrowly avoids capture. Eren is also having problems with his Titan transformation, and a deadly killer has been hired to secure Eren and Historia, one Levi knows all too well from his youth. Then, Hoping to retake Wall Maria and find the answers humanity seeks in Grisha's basement, Eren, Mikasa, Armin and the rest of the Scout Regiment return to the town where everything began: Shiganshina.
Facts
Original Name 進撃の巨人
Status Returning Series
Networks
Certification
Meaning

This program is specifically designed to be viewed by adults and therefore may be unsuitable for children under 17
Type Scripted
Original Language Japanese
Runtime 25m
Content Score
Yes! Looking good!