Overview
A story of pure love between the son of a man who runs a ship repair factory beset with financial troubles and the well-bred daughter of a national jewelry chain store owner.
Last Season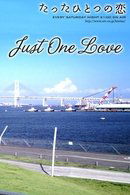 2006 | 10 Episodes
Set in Yokohama, Hiroto Kanzaki (Kazuya Kamenashi) works hard every day and night to fight for the survival of a small ship repair factory inherited from his father, and to support his mother and young brother, who has health problems. Living such an underprivileged life, Hiroto has forgotten how to smile. In contrast to him, Nao Tsukioka (Haruka Ayase) is the daughter of a popular jewelry shop owner on a fashionable street in Yokohama. She was born with a silver spoon in her mouth, literally. Nao attends a prestigious women's college and grew up cheerful, blessed with affluent love. From the moment Hiroto meets her, his closed mind gradually opens up to Nao, who is so innocent that she utters whatever is on her mind.
Recommendations
We don't have enough data to suggest any TV shows based on Just One Love. You can help by rating TV shows you've seen.
Facts
Original Name たったひとつの恋
Status Ended
Network
Certification
Meaning

Content suitable for viewers over the age of 12.
Type Scripted
Original Language Japanese
Runtime 60m
Content Score
Almost there...