Overview
Media
Fandom
Share
Episodes
5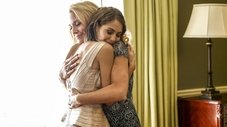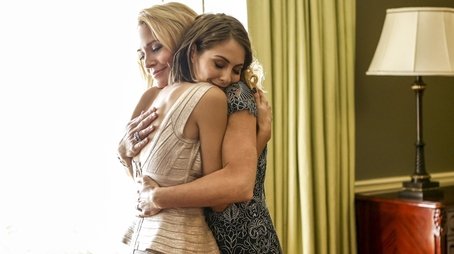 Oliver wakes up to a life where he never got on The Queen's Gambit. Robert and Moira Queen are alive and well. Laurel is his loving fiancée and their wedding is imminent. Everything seems perfect, but Oliver starts to notice small imperfections that make him question this new reality. Meanwhile, Felicity and the recruits take on a new threat with help from The Flash and Supergirl.
The crossover starts on Supergirl S02E08 Medusa (I) and The Flash S03E08 Invasion! (II). It continues on DC's Legends of Tomorrow S02E07 Invasion! (IV).
Read More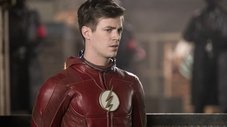 Barry and Iris's wedding brings the gang together, but things go awry when villains from Earth-X attack the ceremony. All of the superheroes band together with help from their super friends like Citizen Cold, The Ray, Felicity Smoak, Iris West and Alex Danvers to take on their most formidable villains yet. Earth's mightiest heroes – Green Arrow, Supergirl, The Flash and White Canary – lead their teams into battle to save the world.
The crossover starts on Supergirl S03E08 Crisis on Earth X (I). It continues on The Flash S04E08 Crisis on Earth-X (III) and DC's Legends of Tomorrow S03E08 Crisis on Earth X (IV).
Read More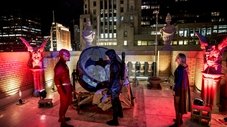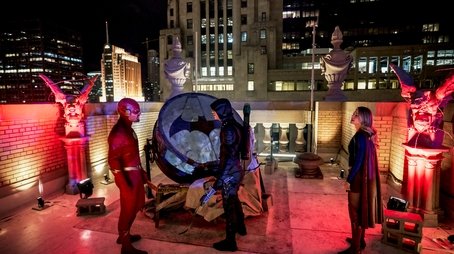 With Oliver and Barry still stuck in the other's bodies, the two get a lead on John Deegan and head to Gotham City with Supergirl to figure out why their reality has changed. While there, they meet the mysterious Kate Kane who provides them with information that leads the group to Arkham Asylum.
The crossover starts on The Flash S05E09 Elseworlds (I) and concludes on Supergirl S04E09 Elseworlds (III).
Read More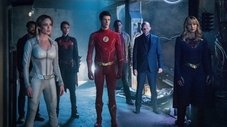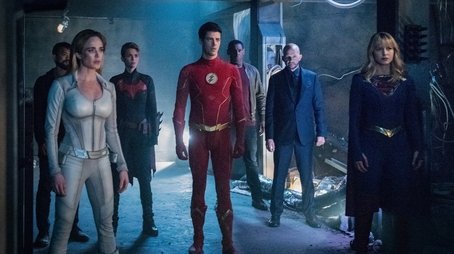 Stuck in the Vanishing Point, the Paragons search for a way to escape. The futility of the situation is compounded by The Flash's disappearance. However, hope appears in the form of Oliver, who reveals that he has become something else. Meanwhile, the origin stories for The Monitor and Anti-Monitor are revealed
This crossover begins on Supergirl S5E09, Batwoman S1E09, and The Flash S6E09 and concludes on Legends of Tomorrow's special episode.
Read More