Overview
Agent Phil Coulson of S.H.I.E.L.D. (Strategic Homeland Intervention, Enforcement and Logistics Division) puts together a team of agents to investigate the new, the strange and the unknown around the globe, protecting the ordinary from the extraordinary.
Featured Crew
Creator

Creator

Creator
Top Billed Cast
Phil Coulson

Daisy "Skye"Johnson / Quake

Leo Fitz

Melinda May / The Cavalry

Jemma Simmons
Current Season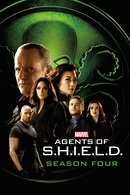 2016 | 20 Episodes
Vengeance runs rampant this season as Coulson is a mere agent again, and Daisy has gone rogue after being under Hive's control. How will S.H.I.E.L.D. deal with the arrival of The Ghost Rider?
Content Score
Lookin' Good!