Overview
The Sopranos is an American television drama created by David Chase. The series revolves around the New Jersey-based Italian-American mobster Tony Soprano and the difficulties he faces as he tries to balance the conflicting requirements of his home life and the criminal organization he heads. Those difficulties are often highlighted through his ongoing professional relationship with psychiatrist Jennifer Melfi. The show features Tony's family members and Mafia associates in prominent roles and story arcs, most notably his wife Carmela and his cousin and protégé Christopher Moltisanti.
Featured Crew
Creator
Last Season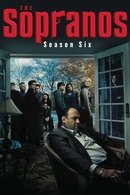 2006 | 21 Episodes
The sixth and final season of the HBO drama series The Sopranos was broadcast in two parts, the first beginning on March 12, 2006 and ending after twelve episodes on June 4, 2006. The first of the final nine episodes premiered on April 8, 2007 with the series finale airing on June 10, 2007. The season was initially meant to consist of twenty episodes, but creator David Chase asked for one more to properly round out the story. Season Six: Part One focuses on the possibility of redemption as various members of the New Jersey crime family are offered chances to change their behavior, especially mob boss Tony Soprano, who confronts a spiritual awakening following a near-death experience. Season Six: Part Two focuses on the Sopranos crime family suffering through the tragic consequences of their actions as they come into a climactic conflict with their formidable New York enemies. Ratings and critical reception were both strong during the sixth season of The Sopranos. Part One opened to rave reviews, but was criticized in the latter half for a subplot focusing on minor character Vito Spatafore. Part Two received approving reviews from television critics, but the ending of the final season was controversial. The Sopranos won Outstanding Drama Series at the 59th Primetime Emmy Awards for the second part of season six.
Facts
Status Ended
Network
Certification
Meaning

This program is specifically designed to be viewed by adults and therefore may be unsuitable for children under 17
Type Scripted
Original Language English
Runtime 60m, 50m
Homepage http://www.hbo.com/sopranos/
Content Score
Yes! Looking good!