Episodes
4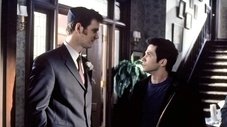 Jeffrey Marc Shapiro
1963 - 2001
Nate is exposed to a friendly female rabbi at a funeral they have. Claire visits her Aunt Sarah's place and meets a boy that she isn't immediately disgusted by. Keith starts to get less icy towards David.
Read More
Expand
Fiona Lenore Kleinschmidt
1948 - 2005
Ruth is delighted when her sister Sarah calls. Claire finds a way to keep her money problems at bay. Nate reminisces about his love life while Brenda is away taking time out for a little rest and relaxation. Federico entertains an interesting offer unaware of someone's motives.
Read More
Expand