Overview
Media
Fandom
Share
Episodes
5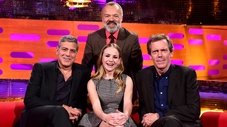 Among the guests on Graham's sofa are the one and only George Clooney in a rare UK appearance, talking about his new movie Tomorrowland, wrestling legend turned movie star Dwayne 'The Rock' Johnson, and rock's most enduring couple, Sharon and Ozzy Osbourne. Plus music and chat from Snoop Dogg.
Read More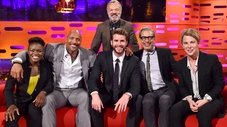 Graham is joined by wrestling superstar-turned-actor Dwayne 'The Rock' Johnson, promoting new movie Central Intelligence; and Hollywood stars Jeff Goldblum and Liam Hemsworth, co-starring in sci-fi blockbuster Independence Day: Resurgence. With music and chat from Tom Odell, performing new single Magnetised.
Read More
Together on Graham Norton's sofa are Jessica Chastain, Oscar-nominated star of The Help and Zero Dark Thirty, comedian and writer Dawn French, Pitch Perfect actress Rebel Wilson, and Dwayne Johnson, Kevin Hart and Jack Black, stars of Jumanji: Welcome to the Jungle. Plus music from Noel Gallagher's High Flying Birds, who perform Holy Mountain.
Read More
Graham is joined by Dwayne 'The Rock' Johnson and Oscar-nominated star of Moonlight and James Bond Naomie Harris, starring together in monster movie Rampage, and Sherlock and The Hobbit star Martin Freeman, appearing in horror anthology Ghost Stories. Roger Daltrey performs his new single As Long as I Have You.
Read More
Graham is joined by two stars of the film Jumanji: The Next Level, Dwayne Johnson and Kevin Hart, Doctor Who star Jodie Whittaker, Michael Palin and singer Harry Styles.
Read More