Overview
Media
Fandom
Share
Episodes
4
On Graham's festive sofa are: football legend David Beckham; from Star Wars: The Force Awakens, Princess Leia herself Carrie Fisher and new stars Daisy Ridley and John Boyega; and pop superstar Kylie Minogue, who chats and sings.
Read More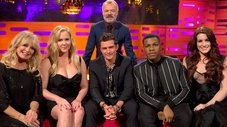 On Graham's sofa this time are Oscar-winning Hollywood star Goldie Hawn and stand-up and actress Amy Schumer, together in new action comedy Snatched, Pirates of the Caribbean star Orlando Bloom to chat about his new film Unlocked, and Star Wars star John Boyega, appearing in Woyzeck at the Old Vic. Lucie Jones performs the UK's Eurovision entry Never Give Up on You.
Read More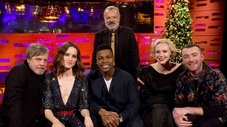 Joining Graham Norton are the stars of Star Wars: The Last Jedi - Daisy Ridley, John Boyega, Gwendoline Christie and Luke Skywalker himself, Mark Hamill. And Sam Smith performs.
Read More
Together on Graham's festive sofa: from the new blockbuster Star Wars: The Rise of Skywalker, Daisy Ridley and John Boyega; Superman himself, Henry Cavill, in new fantasy drama series The Witcher; and Ruth Jones and Rob Brydon, reunited in the Gavin and Stacey Christmas Special. Plus music from Robbie Williams, performing a song from his new album The Christmas Present.
Read More