Overview
Media
Fandom
Share
Episodes
6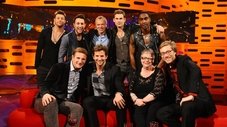 Hollywood heavyweight Liam Neeson ("Unknown," "Taken") shares the couch with Bradley Cooper ("The Hangover 2," "Wedding Crashers"), comedian Jo Brand and "The Office" co-creator Stephen Merchant, along with musical guest Blue.
Read More
Bradley Cooper returns to the show, this time with his 'Hangover 2′ co-star Ed Helms, 'Parks and Recreation's' positive thinker Rob Lowe and 'Doctor Who's' Alex Kingston.
Read More
With guests Jessica Biel, Bradley Cooper, Sarah Millican, James Corden and Lenny Kravitz.
Read More
The award-winning host continues his talk show, as he is joined by Will and Jaden Smith, Michael Douglas, Bradley Cooper and Heather Graham. With music from Selena Gomez.
Read More
We don't have an overview translated in English. Help us expand our database by adding one.
Guests on Graham's sofa include multi-Oscar-nominated actor Bradley Cooper, pop superstar Lady Gaga, Doctor Who star Jodie Whittaker, and double Oscar nominee Ryan Gosling. Plus, music and chat from the legendary Rod Stewart.
Read More