Danny DeVito
as Charlie Lucre (voice) (uncredited)
Episodes
1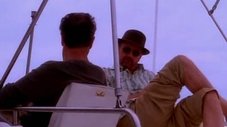 Nicholas Pell (Thomas Kretschmann, ""The Pianist"") slips through Karen's fingers immediately after he exits a plane. Karen's humiliated, and now ordered off the case by the FBI. But that doesn't stop her from trying to catch this con man that targets rich women. Karen is placed in charge of protecting former mob accountant Alvin Simmons (Xander Berkeley, ""24""). Marshall Sisco helps Karen out with the Simmons case, so that Karen can continue to chase Pell. Karen returns from a date to find that Simmons has fled the witness protection program, carelessly putting his and Karen's life in jeopardy. Karen's ex-boyfriend, a married FBI agent (Peter Horton, ""thirtysomething""), is back in Miami.
Read More
Crew
1
Directed by: Michael Dinner
Written by: No writer has been added.