Episodes
4
The men of Bravo are certain that Westmoreland has not yet informed the enemy that they are losing, as Firebase Ladybrid continues to come under daily long-range artillery fire. Suddenly a helicopter approaches and lands despite the fact that the base is taking fire. It is the new company commander -- Captain Larry Heath -- a man who initially wins over the favor of his troops with gifts, but he proves to be a complete fanatic. Heath wants to attack despite the fact that it appears that the base is about to be attacked. Zeke and Goldman set them men to putting up a defense and get in trouble because of it. A large attack proves that Anderson was right when the firebase is over-run and Doc Matsuda, with only 15 days left of his tour of duty, is killed when he refuses to abandon his patient.
Read More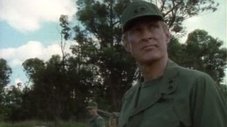 Retired Major General Goldman arrives by helicopter at Firebase Ladybird on a fact finding mission for Washington brass. Seeing another helicopter landing, he goes to greet and question Anderson and his soldiers about the mission they have just returned from. They later learn that the general is Goldman's father but it is clear when they meet that the two don't have a good relationship. They were estranged when Myron's mother died five years before and haven't spoken since. The Major general finds that his son's leadership methods appall him. Ruiz befriends a new man who joins the team, mainly because he is also a hispanic. But the man manages to get himself killed due to his careless attitude. Dalby orders Goldman's men into an impossible attack which Myron refuses to go on. Zeke and Goldman realize that the new man was on dope and set out to cure the problem themselves.
Read More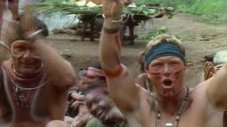 The men from Bravo company are patrolling in the jungle when they find a fresh trail, one that leads to a trap by a group of VC soldiers. The Americans are out-numbered and in a very bad position. Suddenly they are rescued by Montagnards. Anderson trusts them, and has the squad follow them back to their village where they meet the translator -- an ex-GI (Kithem). The American is obviously hostile to the presence of Goldman and the rest of the Americans. Against Kithem and Anderson's better judgement, Goldman follows orders to help fortify the native ""compound"" against the VC. Kithem warns that all the American attention will only bring down the ARVN and NVA forces. Which is exactly what happens.
Read More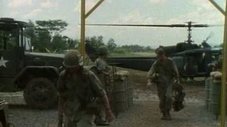 Goldman and Nikki have a great time on a brief R&R that they spend together on China Beach. Their reunion is marred by the fact that Nikki refuses to marry him, fearing he will be killed in combat. Goldman returns to Firebase Ladybird to find that his unit has been assigned to help take Hill 1000. They've taken it before and lost it before. And this battle promises to be the worst. Even after the bunker is finally taken, it is found empty. They go back down so that a plane can spray a defoliate. They must go back and take that hill yet again. Horn has, in the meantime, gotten in trouble with a young -- and new -- officer. Sitting at the bottom of the hill and awaiting the court-martial, he sees a wounded Taylor and he decides to go back with his buddies and fight. Horn is seriously wounded and sent home.
Read More