Episodes
3
Two sappers make their way into Firebase Ladybird without being detected, but Percell sees the third one, killing him. The other two manage to set off their explosives before they can be stopped. The next morning, Capt. Wallace orders Anderson and Goldman to have their men police up the dead bodies.. Anderson complains his men are beat, but Wallace isn't concerned. Percell is upset both over a friend's dying and having received a ""Dear John"" letter. Goldman, meantime, runs into an old friend: Lt. Nikki Raines, and promises to meet her later. Goldman, Anderson and the squad go out to destroy a bridge, which they blow up. Percell, in the midst of chasing a running VC, accidentally kills an 8-year-old. Percell is devistated over the incident.
Read More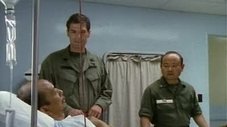 In a small South Vietnamese hamlet, an NVA officer arrives to brief his men that they will soon begin infiltrating towns and villages through-out the country in preparation for the Tet Offensive. Meanwhile, Bravo is in the bush, while Baker is losing a battle with his dysentery. As he ""answers the call of nature"" he sights VC closing on the unit and then, pulling his pants up, gets a frog down them, and starts screaming. As the American's come running, a fire fight starts, ending with the capture of an NVA Colonel Trang. Goldman catches a bullet in the helmet and in his jacket as they try to retreat. Though saved by his clothing, he still does need to go to the hospital along with Anderson, who is hit with shrapnel. While Goldman and Anderson recover, Trang dies under mysterious circumstances during interrogation.
Read More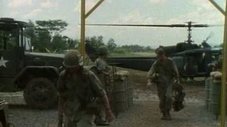 Goldman and Nikki have a great time on a brief R&R that they spend together on China Beach. Their reunion is marred by the fact that Nikki refuses to marry him, fearing he will be killed in combat. Goldman returns to Firebase Ladybird to find that his unit has been assigned to help take Hill 1000. They've taken it before and lost it before. And this battle promises to be the worst. Even after the bunker is finally taken, it is found empty. They go back down so that a plane can spray a defoliate. They must go back and take that hill yet again. Horn has, in the meantime, gotten in trouble with a young -- and new -- officer. Sitting at the bottom of the hill and awaiting the court-martial, he sees a wounded Taylor and he decides to go back with his buddies and fight. Horn is seriously wounded and sent home.
Read More