Episodes
3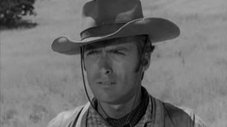 A stage load of passengers being chased by the man with the black satchel wrecks. Favor takes them to his camp. The man is a hired executioner after someone from the stage or the herd.
Read More
Rowdy hires wolfers Abner Cannon and his children.
Read More
The drovers have a Saturday off for the first time in a long time. To wake up the dead town. Rowdy and his friend Rabbit shoot at a schoolhouse bell. A bullet ricochets and kills Jud Hilton. His brother, Brother William, a tetched self proclaimed minister, puts a curse on them and say they can't outrun death.
Read More